INTRODUCING INDESTRUCTIBLE SNĀPCHARGE®
_ The Toughest Magnetic Charging Cable _
THE CHARGER THAT CAN PLUG ITSELF IN
Powered with the N52-grade Neodymium magnetism, SnāpCharge® delivers an instantaneous and effortless charging experience.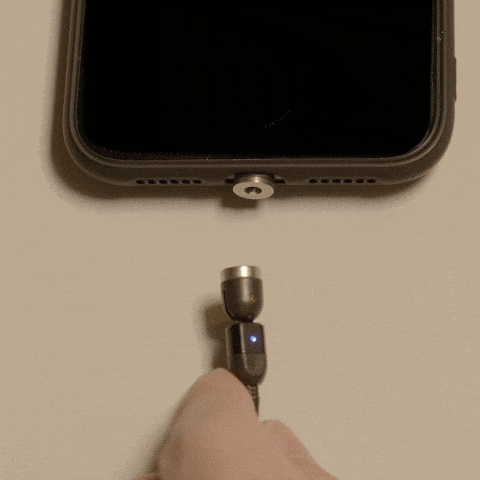 SO TOUGH IT WILL LAST A LIFETIME
Forged from space-age aramid fiber, the award-winning SnāpCharge® cord endures 1,600 pounds of force and still works like new!
Ryan Smith |  Melbourne, VIC
  "All of my previous charging cords have either frayed or f-r-a-y-e-d. So frustrated! Then, I stumbled into Snapcharge. Not only super sturdy, but it can also charge my phone like nothing I've seen before. It's been more than 8 months now and I have only 3 words for this product: convenient, brilliant and extraordinary!"
WHAT MAKES THE INDESTRUCTIBLE SNAPCHARGE SPECIAL?
Description
TOP 3 INNOVATIVE DESIGN OF THE YEAR (BY TECHRADAR.® 2020)
Snaps, frays, and loose connections are things of the past after you add the SnāpCharge® to your arsenal. Take it with you anywhere and the SnāpCharge® will be just as resilient as the day you took it out of the package.
MAGNETIC CHARGING MAKES IT EASY
The enclosed N52-grade Neodymium magnet in the head of the cable makes charging effortless. Just bring the cable within an inch or two of the port and it will pop right in!
NO MORE CHAOTIC PHONE FUMBLING
Whether you're driving, reading, dealing with kids, or just doing anything that requires your hands or attention, you can plug in any device without even trying. You'll never want to go back to "manual" charging. Period!
SWAP, CHARGE & GO
No more cord hunting because the SnāpCharge® offers 3 different types of charging heads. Set up a SnāpCharge® charging cord in every room and keep every device in your home powered seamlessly and interchangeably.
MORE THAN A GUARANTEE
Try the SnāpCharge® for 30 days – we dare you to destroy it! If for any reason you aren't completely blown away by the strength, versatility, and reliability of the SnāpCharge®, just send it back and we're happy to return every penny. Let us eat the risk on this one and show you how life-changing this little magnetic black cord is.
How SnāpCharge® works
 Two simple steps:
Plug the pin into your phone's charging port.
Just bring your charging cord near the port and it does the rest!
Hannah Miller |  Los Angeles, CA
 "All of my old charging cables broke within months, but SnāpCharge® is truly out of this world. Finally, an indestructible charging cable with a super-hero power (hint: the magnet)! Bravo to this team for creating this masterpiece 👏"
OUR COMMITMENT
30-day Money Back: Simply send us an email and we will get you covered.
Free Shipping: A transparent process with detailed tracking numbers.
Secure Payment: Encrypted payment accepted via Paypal, Apple Pay, Google Pay, and Stripe.
Support: Have a question, concern, or just want to talk chargers? We're online!
What's included
01 x Indestructible SnāpCharge® charging cord
02 x Indestructible SnāpCharge® magnetic tips
Feeling of excitement every time you charge your phone. Yay!
Tech specs
Voltage: 3A steady current (fast charge)
Data transfer: up to 480 Mbps
N52-grade Neodymium magnet
Power Indicator LED
Compatibility: Apple / USB-C / Micro
Giving back
In an increasingly chaotic world, it is important that we all play our part. To this end, we give 5% of our sales to charity. We currently partner with Mercy Relief, a humanitarian relief agency responding to natural disasters around Asia. They have provided aid to over 2 million people across 25 countries. Read more about their work here.  
---